Rick Stein's Cookery School
Everyone cooks better at our cookery school. We don't know if it's the view out over the estuary across the water to Rock, the blue and white fish tiles or the sail shaped ceiling but it's a smart place to do some cooking.
We offer a range of cookery experiences, from workshops and tasting evenings to one and four day courses, and even a fun 'cook your own dinner party' evening.
With chef demonstrations, hands-on cookery and plenty of time to enjoy the fruits of your labour, we'll teach you how to create really impressive dishes using Rick's classic recipes and inspiration from his TV travels around the world.
All the courses feature the very best fish and seafood from Cornwall, as well as meat and ingredients sourced locally, and our chef lecturers have all trained in our restaurants.
Hope to see you soon.
POPULAR COURSES
Find out more about Rick Stein's Cookery School
This year we celebrate our 21st anniversary. We started the Cookery School to give the chefs at The Seafood Restaurant a bit more intensive training, preparing and cooking fish and shellfish. As time went on we started running a few courses for aspiring cooks, which was an instant success with the public but the principle remains the same, teaching by chefs who really know what they're doing.
We also offer private courses, events and dinner parties for special celebrations and corporate events, get in touch with our team to find out more.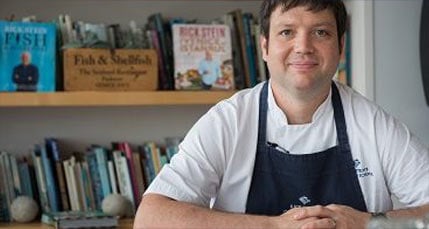 MEET NICK EVANS, OUR HEAD CHEF LECTURER
Nick first joined our team in 2001 and what he doesn't know about fish isn't worth knowing. After working his way up to Head Chef at St Petroc's Bistro, including a good few years as Sous Chef at our flagship, The Seafood Restaurant, he took the lead at our cookery school in 2016. His passion for seafood cookery is truly infectious.